SION - Luciano Spalletti's side took part in their second pre-season fixture on Wednesday, losing 2-0 to Sion in the Trophée de Tourbillon. The Nerazzurri tactician started with a four-man defence, with Lautaro Martinez playing up front once again, supported by Politano, Nainggolan and Karamoh in behind. Meanwhile, Sion, who are preparing for the start of their championship next weekend, had a couple of old faces from Italian football – Kasami and Adryan.
Wearing their new 2018-19 Away shirt, Inter looked to threaten on the counter-attack during the first 10 minutes, relying on the pace of both Karamoh and Politano. Lautaro was often a presence on the edge of the area and had a number of chances blocked by the defence. The first real opportunity came through Nainggolan in the 13th minute, as he fired a fierce strike just past Maissonial's post.
Not long after Nainggolan was replaced by Emmers, with the hosts then taking the lead in the 27th minute through Neitzke. A corner from the left-hand side triggered it, as the ball beat Padelli and the Sion man comfortably headed home. Karamoh and Lautaro both responded well soon after, although the Swiss defence stood strong. As for Sion, they nearly doubled their lead through Carlitos, as his curling strike crashed off the woodwork. The ball then fell kindly for Adryan but Padelli managed to smother.
The match intensity soon grew and Gagliardini and Karamoh both forced the opposition shot-stopper into action, but the half-time whistle eventually sounded with Sion 1-0 ahead.
Spalletti opted to make several changes at the break, with D'Ambrosio, Ranocchia and Candreva coming on for Dalbert, De Vrij and Politano. It was then very nearly D'Ambrosio who got his side an equaliser, as he found space at the back post following a corner, although couldn't keep his header down.
Despite the many changes and a consequent drop in rhythm, Inter kept pushing for a goal. The 62nd minute saw Salcedo and Icardi come on, in what was the latter's first appearance of the season. The hosts doubled their lead slightly against the run of play in the 70th minute, as Baltazar played a one-two with a teammate and sent a sweet left-footed strike into the far left-hand corner. Inter tried to get back into the game during the final 15 minutes, with Karamoh just missing a header, but the Swiss side stood strong and secured the win.
Inter will be back in action on Saturday in Pisa, when they will take on Zenit St. Petersburg at the Arena Garibaldi. Kick-off is 20:15 CEST
SION 2-0 INTER
Goalscorers: Neitzke 27', Baltazar 70'
SION: 30 Maissonial; 3 Maceiras, 16 Raphael Rossi, 19 Neitzke, 22 Abdellaoui; 10 Carlitos, 11 Adryan, 14 Grcic, 23 Mveng, 29 Kasami; 21 Moussa.
Substitues: 1 Berchtold, 2 Lenjani, 5 Bambert, 8 Baltazar, 9 Daoudou, 17 Philippe, 20 Pinga, 24 Toma, 26 Epitaux, 27 Ndoye, 28 Uldrikis.
Coach: Maurizio Jacobacci
INTER: 27 Padelli; 29 Dalbert (46' D'Ambrosio 33), 6 De Vrij (46' Ranocchia 13), 37 Skriniar (75' Zappa 67), 18 Asamoah; 5 Gagliardini (69' Roric 65), 20 Borja Valero (62' Salcedo 74); 16 Politano (46' Candreva 87), 14 Nainggolan (24' Emmers 40), 7 Karamoh; 10 Lautaro (62' Icardi 9).
Substitutes: 1 Handanovic, 46 Berni, 59 Dekic, 32 Colidio, 64 Nolan, 68 Demirovic.
Coach: Luciano Spalletti
Bookings: Baltazar 59', Maissonial 90'
Added time: 2' - 1'
Referee: Alessandro Dudic
Assistants: Alain Heiniger and Sertac Kurnazca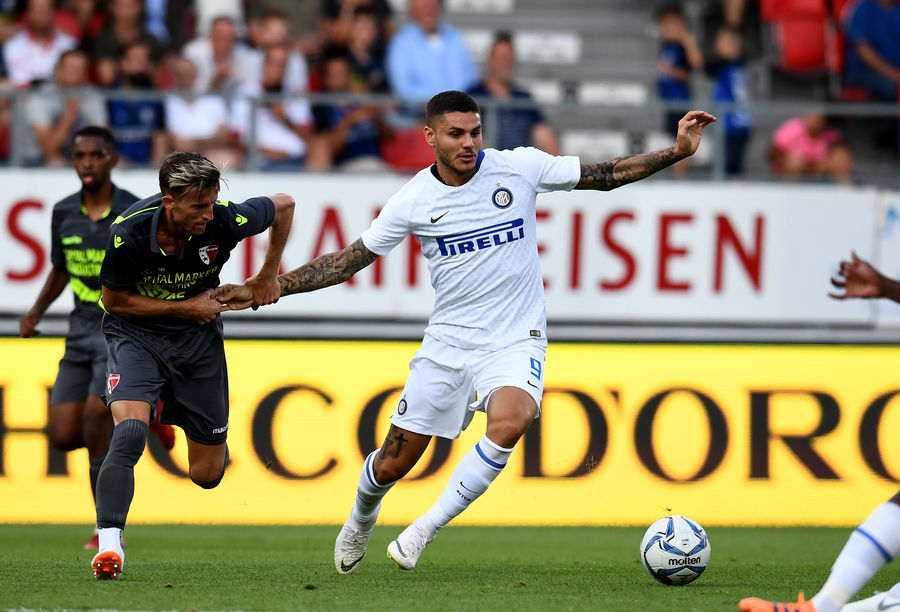 Versión Española 日本語版 Versi Bahasa Indonesia 中文版 Versione Italiana